NEXT UP:
The Prince Who Hopped a Bus — An Evening of Storytelling
Seven Free Performances from April 27 through May 29, 2009
At The Lyceum — Alexandria's History Museum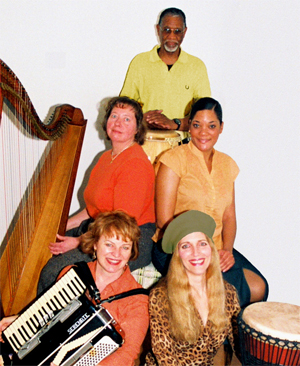 Join Paula Alprin and Lolita-Marie (storytellers) and Halina Banas-Jones (accordion), Kathy Hutchins (folk harp) and Earl Richardson (percussion) for an original program of stories and songs.
Admission is free. This program is suitable for families and recommended for audiences ages 8 to 88. Advance tickets or reservations are not needed.
Monday, April 27
Saturday, May 2
Monday, May 4
Friday, May 8
Friday, May 15
Friday, May 22
Friday, May 29
All performances start at 7:30 p.m. at The Lyceum — Alexandria's History Museum, 201 South Washington Street, Alexandria, VA 22314.
Natural Theatricals is a professional theater company dedicated to imaginative staging of classical, contemporary, and original works for audiences in the greater Washington, DC region. In addition to fully-staged plays, we have begun to present musicals and programs of storytelling and song.
Natural Theatricals has mainly presented plays with classical themes derived from the ancient Greek theatrical tradition. These may include English translations of ancient works, adaptations by modern masters, or new works built upon or inspired by classical themes. We broadened this tradition in 2007 to present our first musical, Will You Know It's Me?, and in 2008 when we started presenting programs of theatrical storytelling, including pieces with musical accompaniment and songs, at a variety of venues.
We strive to present productions that challenge the imagination of our audiences, respect our source material, and maintain high standards of taste. In general, we believe the performances we present are suitable for persons thirteen years of age and older. Our next production, The Prince Who Hopped a Bus, is suitable for persons 8 to 88.