written by Paula Alprin
directed by Susan Alison Keady



in the indoor amphitheatre of the George Washington Masonic National Memorial
"Alprin shows her affinity to classic theatrical structures but also her facility for humorous dialogue … Karen Doubek provides a subtle performance of the grief-crippled mother."
— Brad Hathaway, Potomac Stages
"Alprin's script contains quite a bit of humor ... real humor and insight as it deals with issues of grief, remorse, and the pain of letting go. Aimée Meher-Homji's delivery and comedic timing are wonderful."
— Rich See, CurtainUp
"Tragic vaudeville … Alprin's intelligent dialogue doesn't pander to the audience."
— Luke Edward, DC Theatre Reviews
"The dialogue here is witty … Jennifer Berg is intense and spunky as Alexa … she's a pleasure to watch … Paula Alprin, who wrote the play, also plays its most enjoyable character, Ella … who hilariously harnesses her karma!"
— Brian Trompeter, Sun Gazette Newspapers
"The author presents us with a jewel of a comic monologue, so offbeat and funny that it shines out like shook foil … brilliant!"
— Craig Lancto, Del Ray Sun
CAST
Esther: KAREN DOUBEK
Alexa: JENNIFER BERG
Older Janine, Felice Golden, Sandra Cassidy: AIMÉE MEHER-HOMJI
Adam, Dr. Jason: TOM PENTECOST
Ella: PAULA ALPRIN
Carly: JANET DEVINE SMITH
Young Janine, Nina: MOLLY BENNETT
David de Vega: FRED C. LASH
Rusty: MICHAEL NULL
DESIGNERS
Set Designer: TRENA WEISS-NULL
Lighting Designer: FRANKLIN C. COLEMAN
Costume Designer: PAULA MAYES COUPE
Sound Designers: MIKE EGART AND MICHAEL NULL
Properties Designer: THEONI PANAGOPOULOS
Makeup Designer: ANNE KINKELLA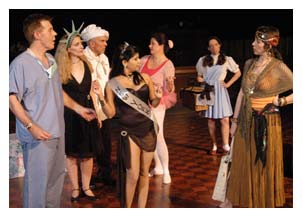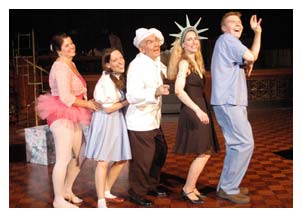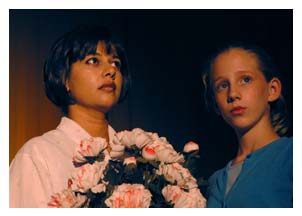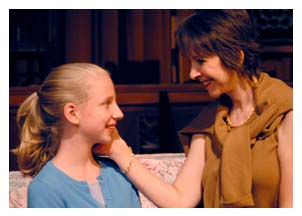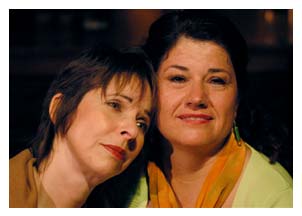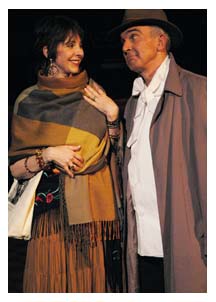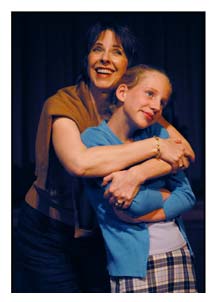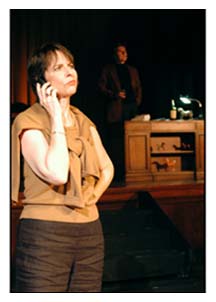 DIRECTOR'S NOTE
The story of Alexa's Necklace stands alone, yet the plot is undeniably influenced by the tales of ancient Greece. Greek tragedy and comedy remain vital after more than two thousand years because the drama, held so dear by the ancient Greek, involved conflicts that are easily adaptable to modern day folks. The search for universal truth is no closer to our reach and no easier to resolve than in ancient times. We are still clenching our fists toward the gods.
How often do you walk the line between comedy and tragedy and search for humor in grief? You may watch Alexa's Necklace and ask yourself "Am I in the right theatre?" Well, you are in the right place at the right time to experience a profound odyssey through the fury of grief and the quest for accountability in a cursed life and, if you find that you are smiling through the show, don't recuse yourself from laughing. Weaving around the delicious plot line of a story handed down through the ages, the company has worked to juggle levity and sincerity, and perform a story replete with characters that you may find in The Odyssey.
When I walk into this exquisite place, I relish the visual connection to the ancient Theatre of Dionysus, where it all began. There are tiers of seats rising from the circular floor which is connected to a modest stage and there is not much depth in the proscenium. I stand humbled by the architecture. Alexa's Necklace endeavors to give an offering to the important relationship between architecture and literature (in the form of the written drama) which was so prized by the Greeks. Offering a new play in this elaborate theatre compelled us to work toward the grandeur of performance. We uncovered the layers of complexity inherent in the script with style, with panache and with an articulate vision.
And, oh yeah, it was great fun.
— SUSAN ALISON KEADY