written by Archibald MacLeish
directed by Rip Claassen



in the indoor amphitheatre of the George Washington Masonic National Memorial
"A wonderful cast explores what happens when the heroics are over and the hero returns home … Happy voyaging!"
— Rich See, CurtainUp
"A unique start-up company is staging ambitious fare ... Natural Theatricals should be applauded for successfully bringing a difficult work to light."
— Missy Frederick, DCist
"The grandeur of the amphitheatre adds greatly to the majesty of this production!"
— Rich Massabny, Arlington Weekly News TV
CAST
Hoadley, Guide: BRUCE ALAN RAUSCHER
Mrs. Hoadley: DEBORAH RINN CRITZER
Megara: MARYANNE MOSHER
Herakles: JOHN TWEEL
Hotel Manager, Xenoclea: MARGARET CONTRERAS
Miss Parfit: KATE HUNDLEY
Little Hodd: CAROLINE GOTSCHALL
Waiter: JAMES SENAVITIS
Hotel Porter: JAMES THOMAS KING, JR.
DESIGNERS
Set Designer: TRENA WEISS-NULL
Lighting Designer: FRANKLIN C. COLEMAN
Costume Designer: TRENA WEISS-NULL
Sound Designer: MICHAEL NULL
Properties Designer: THEONI PANAGOPOULOS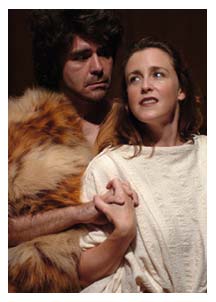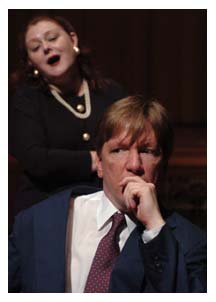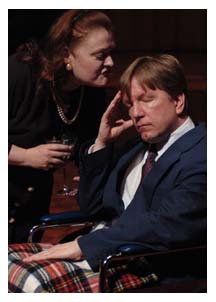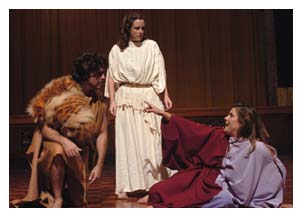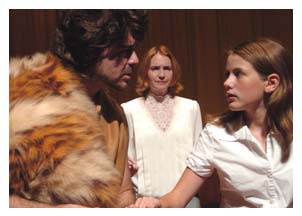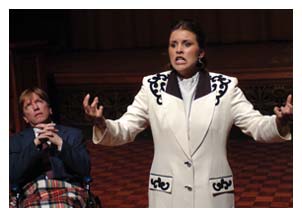 DIRECTOR'S NOTE
Secrets hold power, they hide truths, and they can destroy lives and relationships. As men, we strive to uncover secrets of the universe, of God and science. Why, then, do we often prefer to hide ourselves behind facades, and shelter our feelings behind unsaid truths?
As much as we claim to wish to improve our knowledge, often there is information that we wish not to know. Personal information, or details that we care not to acknowledge — it does not matter which — for until man learns to seek truth without letting personal judgments cloud them, we will never understand the truths for what they are: a path to enlightenment. Science without a spiritual side hides too much, and spiritual matters pursued without regard to investigating the practical puzzles that have been laid out for us is just as much a folly.
This wonderful work that Mr. MacLeish left us has our heroes seeking truths. To me, anyone who is brave enough to explore truth and destiny is a hero, for to face questions and answers (or no answer) is brave, to accept and never question is folly. Do the gods, or does God, make our destiny? Or do our choices, whatever they are, give us our due?
—RIP CLAASSEN