written by Paula Alprin
directed by Cody Jones



in the indoor amphitheatre of the George Washington Masonic National Memorial
"Humor, tenderness and social commentary … witty banter and poignant moments!"
— Brian Trompeter, Sun Gazette Newspapers
CAST
Antigua: THEMBI DUNCAN
Maine: S. LEE KNORR
Coreen: MARILYN BENNETT
Heidi: GERRY JACKSON
Rhoda: EMILY FENICHEL
Terry: JENNIFER BERG
DESIGNERS
Lighting Designer: JEFF MCWHIRT
Set Designer: THEONI PANAGOPOULOS
Fair-Feather Friend
music and lyrics by PAULA ALPRIN
performed by GENEVIEVE JAMES, vocals
and ANDREA HOAG, fiddle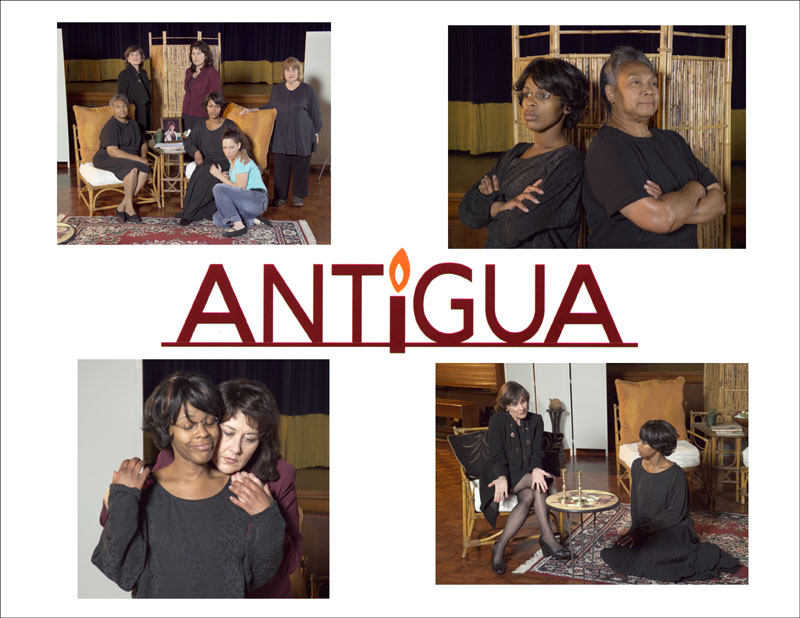 DIRECTOR'S NOTE
How many times have we made decisions based on our "gut feeling" that resulted in life-altering consequences? Do we surrender our decisions to a power greater than life itself, or do the walls of trepidation surround us from being penetrated from outside influences?
I faced many of these questions when I accepted the role of director of Antigua and began exploring its text. To fully understand the hidden connotation of the text, I had to travel outside of my comfort zone, explore other religious traditions and beliefs, and reluctantly reveal the contents of my Pandora's box to my cast to help my actors accept and wrestle with their own demons.
I found their strengths and weaknesses and encouraged them to incorporate these characteristics into the development of their characters' personas. My job as the director was to merge these personas — to tell a story befitting the playwright's vision and relate a story that could be felt by all.
Take a moment to immerse yourself in the tragic and sometimes hilarious moments of this not-so-orthodox Jewish family of women sitting shiva; embrace their strengths, weaknesses, and triumphs. I implore you to explore and reflect on your own lives, willingly accept your family dynamics and, hopefully, overcome the fears within your own Pandora's box.
— MISS CODY JONES